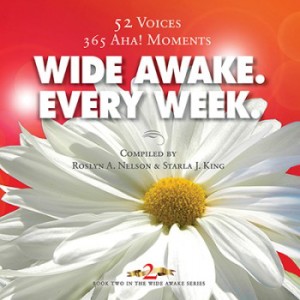 How excited and honored I felt to receive the invitation from editors Starla J. King and Roslyn A. Nelson to contribute seven short essays to Wide Awake. Every Week. Just released, this is a daybook of 365 aha moments, a week's worth from each of 52 authors.
Entries were limited to 280 words, and I dubbed the assignment "seven easy pieces." Reality soon set in. Chiseling each piece to a tight word count is a challenge I enjoy, though this one delivered more than seven moments of frustration.
The ending of "The Elevator Girls," for example, wasn't reworked 39 times, like Hemingway's final page in Farewell to Arms. But like him, "I couldn't get the words right." Eventually, I picked an ending and left it at that.
"Money Mantra" started out way too long, and maybe it still is. "Tree in Golden Gate Park" required serious pruning to shape it into lines I could live with.
"Million-Dollar Birds" was easy. Gratitude for that. A closing image revealed itself as I worked on "Selective Compassion" — a gift for the writer seeking a metaphor.
"Breakfast Note," a prose poem, was the toughest to write. A poet friend informed me that some poets revise each other's work. Aha! He proved a masterful editor.
Below is "Full Moon," the aha moment I most enjoyed writing about.
AUGUST 18
"The body is your only home in the universe.
It is your house of belonging here in the world."
JOHN O'DONOHUE
 Full Moon
We sat on the rocks by the lake on a warm summer night in Maine, my host Joan and her daughter and friends from the free school where she taught, and I. White shimmering lines on the water mirrored the full moon's face.
"I always find the moon so sexy," Joan said.
Sexy? The moon? That white, cold, distant, unreachable shape in the sky? Maine was as spectacular a landscape as I'd seen by that point in my life. But the moon? The Maine moon was nothing special. No moon was.
I was in my early twenties, still in college. It had been a bad summer all around between me and my host, and I left early. But what did I know at that age — about myself, how to leave gracefully, or the moon?
Decades later, on the opposite coast, I walk next to the ocean with a friend, the sky dark, the moon hidden behind fog. Lights from the pier illuminate our path. Suddenly, to our left, in a cleft where the hills meet in a broad V, a patch of fog clears. I catch my breath at the sight. Feel a warm rush in my body. The huge supermoon — that extra-large full moon — has risen over the hills and is now exposed. A flourish of clouds conceals the lower half of the moon like a silky skirt wrapped around a dancer. A magnificent goddess, she rises further, radiating power.
I stand transfixed by her size, her bold glow against the dark sky. She steals my breath. I long to take the moon into my arms. Make her mine, forever.
• • •
© 2015 Darlene Frank. "Full Moon" first appeared in Wide Awake. Every Week. published by Little Big Bay LLC.
The point of Wide Awake. Every Week. is to inspire your own aha moments. They are everywhere and every day. The moments I wrote about were life's gifts to me. I hope they'll spark similar moments for you. And that you'll write about them.
Explore the book. It's a treasure. And a beauty to look at, too.
If you'd like to comment, please say something on my Facebook page.
---
© 2015 Darlene Frank. All rights reserved.
Darlene Frank is a writer, editor, and creativity coach who helps writers merge vision and desire with practical action to bring their creative dreams into reality. She enjoys working with writers who have undergone a radical life transformation and want to create art from that experience. Her creative nonfiction has been published in literary journals and anthologies. Please contact her if you wish to republish this article in any form.
{ 0 comments }